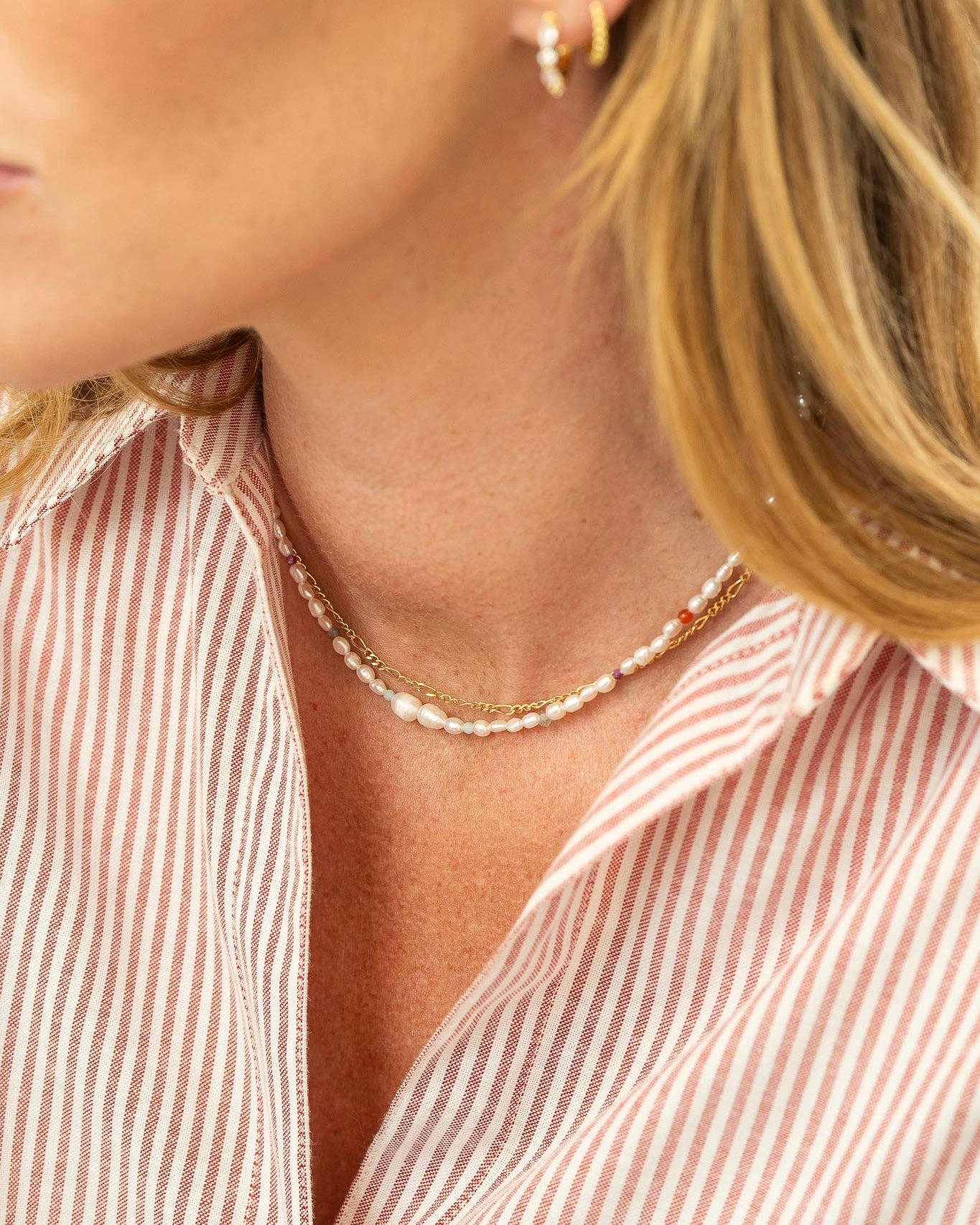 Description
Introducing our latest pearl necklace, the Vienna necklace is a celebration of the timeless beauty of pearls with a modern twist! Adding a contemporary twist to this classic design, the Vienna necklace is adorned with an array of colorful beads that blend perfectly among the pearls, creating your new favourite necklace! 
Embrace the timeless beauty of the Vienna necklace and wear it from day to night!
Materials and Dimensions
- Freshwater pearls and gemstones
- Length: 40cm + 3cm chain extension
- Handmade necklace
- All findings are from tarnish-resistant material
Shipping & Returns
All orders are shipped within 24hr to ensure you receive your jewelry as fast as possible! See our shipping information here.
Our customer support team is here to help, so email us at info@amongemeralds.com for any help, questions or feedback.
Care Instructions
At Among Emeralds we design all of our jewelry from materials made to last and keep their shine for as long as possible. To achieve this, we recommend you show your jewelry some love by taking care of them:
- Keep them away from sea water, swimming pool and steam. Moisture and chemicals will prevent your lovely jewelry from keeping their shine for as long as possible
- Avoid bringing them in contact with perfumes, body lotions and hairspray
- Store them in the pouches we provide with every order ro prevent tangling, scratching and discoloration
Packaging
Your lovely jewelry will be carefully packaged by our team, and all your jewelry will come in our branded pouches that you can use to store your jewelry. Our pouches are great for storing your jewelry when travelling as well!
If you are planning to gift jewelry to a loved one, just let us know in the Checkout notes and we will include a luxurious gift bag as well.
Make it personal.
Say your story with a letter (or two, or three!)
Choose your letter and tell your story. Infuse it with meaning, your meaning.
Each charm is carefully hand-stamped in our studio in Cyprus, making each one unique and like no other.
Explore