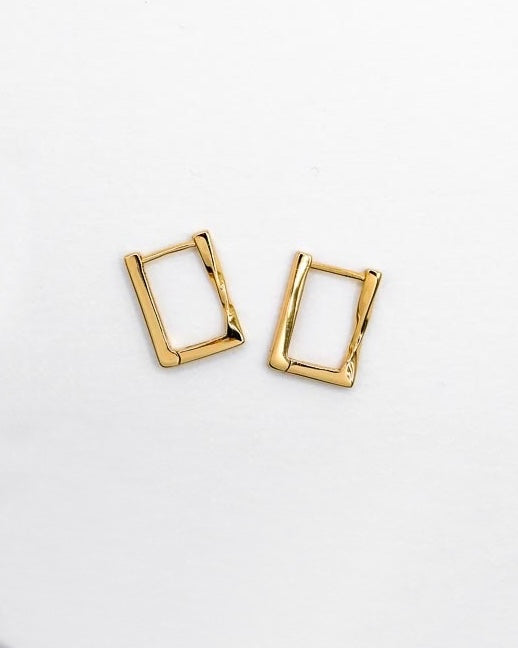 Description
With their unique geometric design, the Emilia hoops are beautifully classy and stunningly sophisticated! These rectangular beauties have a twisted rope design on one side, so they can be enjoyed front or back depending on your mood.
Materials and Dimensions
- 925 Sterling Silver
- Gold plated
- Hoops diameter: 1.2cm x 0.8cm
- Anchoring: Pressure system
Shipping & Returns
All orders are shipped within 24hr to ensure you receive your jewelry as fast as possible! See our shipping information here.
Our customer support team is here to help, so email us at info@amongemeralds.com for any help, questions or feedback.
Care Instructions
At Among Emeralds we design all of our jewelry from materials made to last and keep their shine for as long as possible. To achieve this, we recommend you show your jewelry some love by taking care of them:
- Keep them away from sea water, swimming pool and steam. Moisture and chemicals will prevent your lovely jewelry from keeping their shine for as long as possible
- Avoid bringing them in contact with perfumes, body lotions and hairspray
- Store them in the pouches we provide with every order ro prevent tangling, scratching and discoloration
Packaging
Your lovely jewelry will be carefully packaged by our team, and all your jewelry will come in our branded pouches that you can use to store your jewelry. Our pouches are great for storing your jewelry when travelling as well!
If you are planning to gift jewelry to a loved one, just let us know in the Checkout notes and we will include a luxurious gift bag as well.
Love them!
The Emilia hoops are so elegant and well-made! I got these as a gift for my friend and I am sure she will love them! I will definitely be coming back to buy more jewelry! Thank you!
Really happy to hear you were satisfied with the Emilia hoops! Thank you for the feedback xx
Amazing Hoops
I just received the Emilia earrings and they are truly amazing! Thank you Yiota for the help!
Really glad you love your new hoops Venetia! Thanks for the feedback!
Make it personal.
Say your story with a letter (or two, or three!)
Choose your letter and tell your story. Infuse it with meaning, your meaning.
Each charm is carefully hand-stamped in our studio in Cyprus, making each one unique and like no other.
Explore